The Society
The society has members throughout the world. Many of our members are, or have been, involved in the oil or gas industries but this is by no means a requirement, and we welcome new members from all walks of life.


We extend a warm welcome to new members so if you would like to join the society, please complete the membership form, which you will find on our contact page.

Our quarterly journal, Petro-Philatelist, is full of articles of interest to petro-stamp collectors. It is produced as a digital magazine, but it's very easy to print copies if you prefer a paper issue. Regular updates to our catalogue, Petroleum Stamps of the World, are fully detailed in Petro-Philatelist. In addition, many of the latest relevant stamp issues are included on our social media pages (see below) as soon as we become aware of them. For your convenience, our Facebook feed is now included on this page.

To join the Society there is a fee of US$15, but other than this, we are not presently charging any subscription for membership, although, as noted below, a single payment is required for access to our catalogues, including "Petroleum Stamps of the World".

Petroleum Stamps of the World is a complete online catalogue of world petroleum stamps, for which we charge a one off payment of US$25, for access. The fully illustrated catalogue, is now in its 9th edition, having first been published some 40 years ago, in the early days of the Society. The catalogue is frequently updated, both to include any new stamps found to be petroleum related, and to add any additional information on existing stamps. Downloads are also available so that members can print their own copies of the catalogue.

To illustrate the coverage of Petroleum Stamps of the World, you can see our coverage of the petroleum related stamps issued by Canada, by clicking here.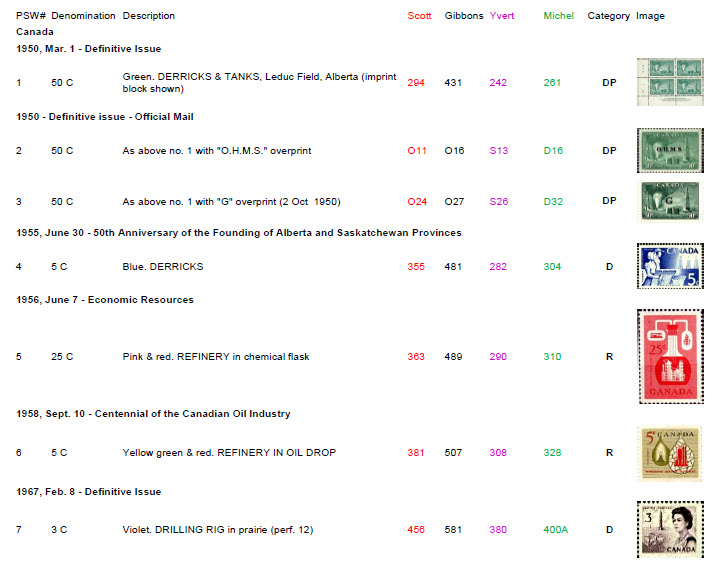 As well as items including some world postal museums, and a walk around London gas lights, you'll find details of the Society organisation, our history, and former Members collections, accessed from the Features page.
Our Newsfeed
Society News
The Features page of the site includes images of some of our former members collections. These are available for you to download so click here to see them.
Note that these are PDF files so you'll need to have Adobe Acrobat installed on your computer to view them.
---
Our President, Tony Curiale, has produced an award winning exhibit of oil related stamps. This presents an excellent introduction to the oil industry, and illustrates the extent of our branch of the hobby of philately. You can view his presentation here.
---
Full details of a walk around central London to look at some of the 1,500 gas lights that are still in use, are included in the Gas Lights page accessed from the navigation bar. It highlights the sites you'll see during the walk, and where possible is illustrated using relevant stamps. You'll also visit the site of the first London gas works, and the location of the first street gas lighting anywhere, during the walk. Click here for the description, which you can easily print, to take with you!
---
The Postal Museum in London is the only Postal Museum in the world to feature a ride on anything like "Mail Rail". Mail Rail is an underground narrow gauge railway that connected various post offices across London. The railway was mothballed some years ago, but part has now been bought back into use for an interactive ride. Go to: postalmuseum for full details of the museum, including its opening times.
For a personal view on this and some other postal museums, in France, India, and Italy please click here!
---